The OC1 can be connected to up to four track segments at a time as shown in this diagram: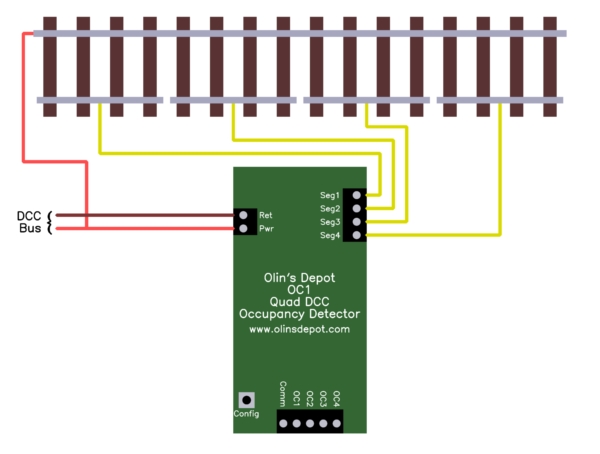 DCC power does not have a polarity, so can be hooked up either way. The DCC line connected to the Pwr terminal must also be connected to the common rail for all track segments covered by the OC1 unit. The other DCC line must be connected to the Ret terminal. The Seg1 thru Seg4 terminals are connected to the other individual rails for each track segment. Note that this side of the rail must be separate for each track segment. Use insulating spacers or gaps as necessary.
When sufficient current is detected accross track segment 1 (Seg1 terminal), the OC1 output will be asserted. Likewise, current in segment 2 will assert the OC2 output, etc.
The five output terminals (Comm, OC1, OC2, OC3, OC4) are completely floating relative to the DCC power.
In electronics jargon, the OC1-OC4 signals are NPN open-collector outputs with Comm being the common emitters. In practical terms, you can think of there being four switches. Each OC1-OC4 terminal is connected to one end of one switch, and the other ends of all four switches are connected to Comm. When occupancy for a segment is detected, the switch is turned on, otherwise it is left off. In essence, each OCx output is shorted to Comm when occupancy is detected, otherwise not.
Unlike normal mechanical switches, these solid-state switches can only handle voltage in one direction. Comm must always be at the same or lower voltage than any of the OCx outputs. Normally Comm is connected to ground. The OCx outputs then either connect their lines to ground or effectively stay disconnected.
The maximum current thru each switch must also not be exceeded. These switches can handle up to 25 mA (milliamps). That is sufficient to light most ordinary LEDs, which are usually rated for 20 mA maximum.
Here is a example connecting LEDs so that they light when a track segment is occupied. This assumes separate 5 volt power is available: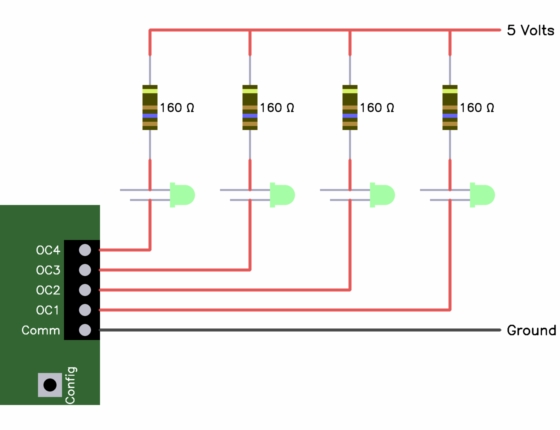 With a 5 volt supply, you should not use resistors smaller than 160 Ω since that results in nearly the maximum of 20 mA the LEDs can handle. Most LEDs are still quite bright with 10 mA current. If that is sufficient, use 270 Ω resistors.
Most LEDs that look like what is shown in this diagram have two leads of different length, with the longer one being the positive connection. However, this is not a universal rule, and you should try flipping the LED around if it does not light. The fancy electronics name for the positive lead (connected to the resistor in the diagram) is the "anode", and the other lead the "cathode". If the LEDs are built into other equipment, like signal lights, then the documentation may only describe them with those terms.